RACING ESTA SEMANA
CARACTERISTICAS
SERVICIOS
Nuevas caras aparecen en las Encuestas de Carreras AQHA esta semana.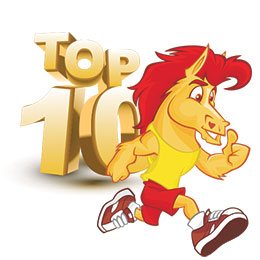 Nuevas Caras Aparecen en Encuesta Nacional de Carreras AQHA
AMERICAN QUARTER HORSE ASSOCIATION-15 DE NOVIEMBRE DE 2017-
Después de un gran fin de semana de carreras con un trío de eventos de Grado 1 en Lone Star Park y Los Alamitos Race Course, los ganadores de esas tres carreras subieron a los primeros 10 en la Encuesta Nacional de Carreras AQHA.
En la encuesta para 3 añeros y mayores, Chazaq, quien ganó el Los Alamitos Super Derby (G1) de $956,500 y ganó un lugar en el Champion of Champions (G1) de $750,000 el 16 de Diciembre, debutó en el No. 9, con Apolltical Chad, quien capturó el Texas Classic Derby (G1) de $384,355 en Lone Star Park, entrando en el No. 10. Hold Air Hostage continuó su reinado en la cima de la encuesta.
Una victoria en el Texas Classic Futurity (G1) de $873,616 saltó a Thecartelofmiracle en el ranking de 2 añeros por primera vez en el No. 8. Lo general se mantuvo en la cima con Fly Baby Fly en el N° 1 e Eagle Jazz en segundo.
La próxima semana de carreras incluye las eliminatorias para el Z. Wayne Griffin Directors en Los Alamitos con las últimas plazas en la línea para el Campeón de Campeones. Entre los que se espera que compitan están Bodacious Eagle, Nº 4, y BH Lisas Boy, Nº 5, ya que el último ya se ha ganado un lugar y ha utilizado las eliminatorias para el Directors como preparación después de regresar de una operación.
RANKINGS NACIONALES, 3 AÑEROS Y MAYORES
1. HOLD AIR HOSTAGE (99)
2. JESSIES FIRST DOWN (89)
3. HEZA DASHA FIRE (70)
4. BODACIOUS EAGLE (54)
5. BH LISAS BOY (49)
6. (empate) THE FISCAL CLIFF (37)
7. (empate) ZOOMIN EFFORTLESSLY (37)
8. TOUGH TO BEE (27)
9. CHAZAQ (24)
10. APOLLTICAL CHAD (19)
MAGICAL JESS (13), FLASH N BLING (7), DUPONTE (5), HE LOOKS HOT (5), APOLLITICAL OK (4), HIGH PLAINS PERRY (3), JESS PAINT YOUR LIPS (3), TIME FOR JESS (3), RC ME LEAVING YOU (1), TIME FOR WINE (1).
RANKINGS NACIONALES, 2 AÑEROS
1 FLY BABY FLY (97)
2. EAGLE JAZZ (90)
3. KVN CORONA (76)
4. UPTOWN DYNASTY (63)
5. J FIRE UP (54)
6. BIGG DADDY (42)
7. NYMERIA (34)
8. THECARTELOFMIRACLE (27)
9. THIS IS AN EAGLE (25)
10. LA VENCEDORA (15)
DASHNUNDER AFULLMOON (10), HOTSTEPPER (10), THREE BAR CARTEL (4), MATILDA CZECH (2), SIXES FLASH (1).
AQHA noticias e información son un servicio de la Asociación Americana de Caballos Cuarto de Milla. Para obtener más noticias e información, siga @AQHARacing en Twitter, vea el Newscast de AQHA Racing y visite www.aqharacing.com .