RACING ESTA SEMANA
CARACTERISTICAS
SERVICIOS
El Mystic Lake Northlands Futurity de $165,000 destacará una alineación de 16 carreras clásicas en Canterbury Park este verano.

© Coady Photography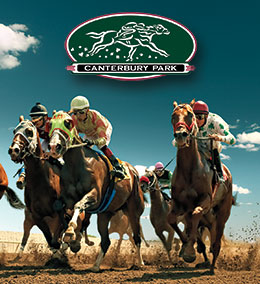 Mystic Lake Northlands Futurity de $165,000 Encabeza Calendario de Canterbury Park 2018
SHAKOPEE, MN-ENERO 31, 2018-
Los oficiales de carreras de Canterbury Park anunciaron el calendario de 16 carreras de Caballos Cuarto Americano para la próxima temporada 2018. La pieza central es nuevamente el Mystic Lake Northlands Futurity con una bolsa estimada de $165,000, que se ejecutará el 8 de Julio.
También ese Domingo será el Canterbury Park Quarter Horse Derby con un bolso que probablemente exceda $75,000. En total, el calendario de clásicos está valuado en aproximadamente $665,000, mientras que se espera que el total de bolsos de caballos cuarto de milla alcance un récord de $1.8 millones.
La temporada de 70 días en el hipódromo de Shakopee, Minn. comienza el 4 de Mayo y se extenderá hasta el 15 de Septiembre con la temporada mixta del 19 de Mayo al 2 de Septiembre.
Nuevo en el horario de clásicos es el North Star State Stakes, para criados en Minnesota, el 3 de Junio sobre 300 yardas. El Mean Competitor Stakes regresa al cronograma el 10 de Agosto. La carrera sobre 870 yardas no se ha realizado desde el 2008. Se llama así en honor al caballo Mean Competitor del Salón de la fama de Canterbury Park, que se destacó sobre la distancias de 870 yardas en la década de 1980. Además, el Mystic Lake Northlands Juvenile de $20,000 será disputado como un consuelo para los caballos que no califican para el Mystic Lake Northlands Futurity.
"Las carreras de Caballos Cuarto de Milla son una parte importante de nuestro programa y tienen una larga historia en Canterbury," dijo el presidente de la compañía, Randy Sampson. "Cada temporada, algunos de los caballos más rápidos del Medio Oeste salen de nuestra puerta de salida y persiguen la que es una de las mejores estructuras de bolsos que existen."
Los bolsos para el Minnesota Quarter Horse Derby y Minnesota Quarter Horse Futurity han aumentado a $50,000 agregados, mientras que el Bob Morehouse Stakes aumenta a $35,000 agregados.
Las carreras del Bank of America Racing Challenge vuelven a estar programadas para el 4 de Julio. El BOA Canterbury Park Championship Challenge es una carrera de $40,000 agregados y el Boehringer Ingelheim Canterbury Park Distaff Challenge tiene un bolso de $25,000 agregados. Ambas divisiones servirán como carreras clasificatorias regionales para el Bank of America Racing Challenge que se celebrará el 17 de Noviembre en Los Alamitos Race Course en Cypress, California.
Las solicitudes de establos se deben para el 26 de Marzo y están disponibles, junto con el primer libro de condiciones, en canterburypark.com .
Para obtener un calendario completo de 2018 Canterbury Park Quarter Horse Stakes HAGA CLIC AQUÍ .