RACING ESTA SEMANA
CARACTERISTICAS
SERVICIOS
Un par de 2 añeros criados en Louisiana batallan hasta la meta en una de las 14 carreras de escuela organizadas para elegibles del Mardi Gras Futurity el Viernes en Louisiana Downs.

© Ann Switalski / Hodges Photography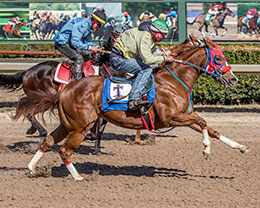 Potro Entero Hijo de Coronas Leaving You Establece Mejor Tiempo en Carreras de Escuela LAD
BOOSIER CITY, LA - 3 DE FEBRERO DE 2018 -
Un graduado de la venta de verano LQHBA de $11,000 registró el tiempo más rápido de 78, 2 añeros criados en el estado que participaron en 14 carreras de escuela sobre 220 yardas en Louisiana Downs el Viernes.
Acoronas Toast, con el jinete JL Martinez, fue un ganador por tres cuartos de cuerpo sobre Mr Dance Pilot en la sexta carrera y corrió sobre 220 yardas en: 12.252 segundos para registrar el mejor tiempo del día.
El entrenador Saul Ramirez ensilló al potro entero hijo de Coronas Leaving You para la dueña Laura Estrella. Gerald Paul Vidrine crió al medio hermano castaño del ganador de Grado 3 restringido, Hesablackmagic y del colocado en Grado 2 restringido Look Of Magic.
El Louisiana Downs Identifier revisa un tatuaje antes de una carrera de escuela el Viernes en Louisiana Downs.
© Ann Switalski / Hodges Photography
Randy Edison montó a Quick To Flirt a una victoria por un cuerpo en la Carrera 8 para obtener el segundo mejor tiempo de: 12.366 segundos. Jesus Garrido condiciona a el potro entero hijo de Quick To Flare Up para Triple C Racing Stables LLC. Belinda Disotell crió al potro entero colorado de la yegua hija de First Down Jewel, Fasttown Baby.
El antes mencionado Mr Dance Pilot, quien terminó segundo en la carrera más rápida del día, registró el tercer mejor tiempo de: 12.367 segundos para el propietario La Herradura Racing LLC. El jinete, Noe Castañeda montó al graduado de $9,200 de la Venta de Añales LQHBA, hijo de Mr Piloto y de la yegua colocada en clásicos, hija de Furyofthewind, Imdancinwiththestars para la entrenadora Barbara Alacantara.
La presa del potro entero alazán es media hermana del Grado 1 colocado, The Printing Press, y esta es la familia del campeón First To Flash y el anteriormente padre líder de Louisiana First To Shine. Grant Farms, LLC es el criador.
Otro hijo de Mr Piloto, First Little Pilot, ganó la Carrera 7 por un cuarto de cuerpo para obtener el cuarto tiempo más rápido de: 12.470. Otra criada por Grant Farms, LLC en Louisiana, la potra alazana también es propiedad de La Herradura Racing LLC y entrenada por Alacantar. Rolando Cabrera montó a la graduada de la Venta LQHBA de $6,500 hija de First Little Magic, una hermana ganadora del ganador de Grado 2 restringido, Magic Shiney. Barbara Alacantara es la entrenadora.
El padre líder Jet Black Patriot fue el único semental con más de un ganador, obteniendo a Flamin Hot Fortune en la Carrera 1 y Shez Stone Patriot en la Carrera 2.
Otros padres con ganadores fueron Triple Vodka, Game Patriot, Sir Runaway Dash, Jumpn Chic, Stoli, My First Moon, FDD Going Grand, Kas I Said So y el padre en primera camada Highest Fire.
Triple C Racing Stables LLC es el único propietario con dos ganadores en la tarjeta, ganando la Carrera 4 con Tf Seperatin y Carrera 8 con Quick To Flirt.
Los entrenadores J. Garrido y S. Ramirez ensillaron tres ganadores cada uno. Randy Edison lideró a todos los jinetes con tres ganadores y E. Sánchez, G. García y N. Castaneda, cada uno con dos.
Para obtener una lista completa de los resultados del Viernes, en orden de tiempos con información de padre, padre, dueño, entrenador, jinete, y de venta (donde corresponde) HAGA CLIC AQUÍ .