RACING ESTA SEMANA
CARACTERISTICAS
SERVICIOS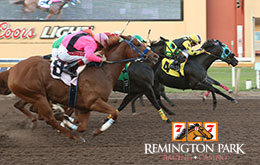 © Dustin Orona Photography

Remington Park Aumenta Bolsos de Nuevo para Temporada de Caballos Cuarto Americano
OKLAHOMA CITY, OK - 16 DE FEBRERO DE 2018--
La temporada 2018 de Caballos Cuarto Americano, Pinto y Appaloosa en Remington Park comienza exactamente tres semanas a partir de hoy. Una pretemporada positiva continúa a medida que aumentan los bolsos por segunda vez.
Los bolsos nocturnos para Caballos Cuarto de Milla aumentarán en $1,500 por carrera. Los bolsos de la noche para las carreras de Caballos Pinto y Appaloosa se incrementarán en $1,000 cada uno.
Al combinar los aumentos anunciados en Enero, las carreras nocturnas de Caballos Cuarto Americano ahora han crecido en $3,000 cada una. Las carreras nocturnas de Pintos y Appaloosa experimentarán un impulso combinado de $1,500.
"El negocio de casinos de Remington Park .. Mas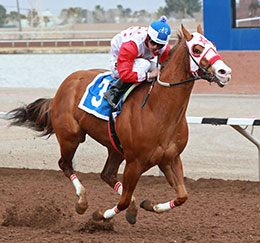 © Coady Photography

Boogies Special Dash Es El Mejor Calificador Para West Texas Maturity de $102,425
SUNLAND PARK, NM - 16 DE FEBRERO, 2018--
Boogies Special Dash, un ganador de clásicos con ganancias de $350,000, venció al ganador del American Futurity de 2016 y campeón Imperial Eagle y estableció el mejor tiempo de clasificación para el West Texas Madurity (G3) de $102,425 en pruebas celebradas el Viernes en Sunland Park Racetrack Casino and Hotel.
El aprendiz de Wes Giles arranco inteligentemente y aguantó terminando un cuello adelante de Imperial Eagle ganando así la primera prueba sobre 400 yardas. El seis veces ganador aceleró a través de la distancia en un rápido 19.659 segundos.
Él es un hijo castrado de Walk T .. Mas
Las ultimas caracteristicas del video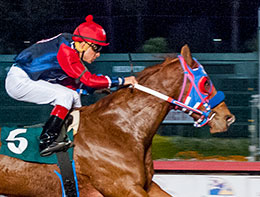 © Scott Martinez

Rf Might Be Hero y Fiery Colt Encabezan Los Alamitos Maiden Stakes el Domingo Por La Noche
LOS ALAMITOS, CA-16 DE FEBRERO DE 2018-
Tras impresionantes victorias y los dos primeros tiempos de clasificación, ''Rf Might Be A Hero de Leslie Braker y Todd Williams y ''Fiery Colt'' de
EG High Desert Farms
obtienen la mejor facturación cuando 10 2 añeros compitan en el Los Alamitos Maiden Stakes de $107,500 en 350 yardas el Domingo por la noche.
El primer arranque para el programa de ocho carreras es a las 5:16 pm con el Maiden Stake .. Mas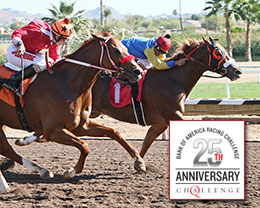 © Coady Photography

Nominaciones para el Turf Paradise Bank of America Challenge se Deben para el 15 de Febrero
AMARILLO, TX-14 DE FEBRERO DE 2018
Las nominaciones para dos carreras Bank of America Regional Challenge que se disputarán en el hipódromo de Turf Paradise se deben para el Jueves, 15 de Febrero.
Una cuota de nominación de $400 se debe para el Jueves para el Bank of America Turf Paradise Championship Challenge de $30,000 agregados. Las .. Mas